There is not a Y-DNA match to for a descendant of Thomas William Mitchiner by the first marriage to Charlotte Oliver and the three descendants of William Best Mitchiner by his second marriage to Sarah Corum. The Y-DNA matches carried by the two descendants of David Rumph Mitchiner and the one descendant of Robert Hayes Mitchiner should establish the biological father of William Best Mitchiner. There is a 12 marker match for them to a Charles Mobley (1821-1898) from Mobley Pond in GA using Ysearch with a genetic distance of 2. William Best Mitchiner lived in the vicinity of Mobley Pond in Screven Co., GA. A working assumption is that a Mobley is the biological father of William Best Mitchiner. A 25 marker or 37 marker match would be more conclusive. There is also a genetic distant for them of 4 at 67 markers to Philip James Brown using Family Tree DNA..
There are three Y-DNA 37 (not Mitchiner) marker matches with a genetic distance of 1 for the descendant of Thomas William Mitchiner. There are matches to Romulus Swift and to William Swift. The other match is to Lester Eugene (Gene) Hale. At a genetic distance of 1 on a 37 marker match there is a 58.60% chance of sharing a common ancestor within four generations and within eight generations there is a 88.79% chance of sharing a common ancestor. Going out past that there is a 97.38% to a 100% chance of a common ancestor.
There is now about a 99% certainty that the father of Ross Clarence Mitchiner was a Henry Swift and that his mother was Susan, the oldest daughter of Thomas William Mitchiner and his wife, Nancy A. V. (Couch) Mitchiner. On Ancestry this Swift line is traced back to William Swyft in England (1430-1480) so there are many descendants. On Family Finder which uses the 22 autosomal chromosomes there is a close match to some members of the Couch line where there is an established connection with Nancy that would have been passed on to her daughter, Susan, and then to Ross and his descendants.
Henry Swift is listed in the 1880 Hunt Co., TX census as a laborer in the household headed by Thomas W. Mitchiner. Henry is 27 and born in GA. Also in the household is Nancy, the wife of Thomas and their three daughters. The oldest daughter, Susan, is 15. Ross Clarence Mitchiner was born one month after the census was taken and raised as the "son" of Thomas and Nancy. Susan married J.J. Weaver on December 12, 1881 and they had three daughters. Henry married May 6, 1882 and he went on to become a teacher and later the County Superintendent of Public Instruction. Ross followed his father vocationally to become a teacher. Henry did not have any children in his marriage so Ross appears to be his only child.
Henry witnessed the will of Thomas and Nancy on October 12, 1889. Ross was only 9 years old and Henry was probably looking out for the interest of Ross. Two of their daughters received five dollars each with the heirs of Susan to split five dollars. Ross got the house and the 42 and one half acres it was situated on as well as any remainder of their estate. The will was recorded on July 22, 1910 in Hunt Co., TX. Nancy died in October 1901 at age 61 and Thomas died in September 1909 at age 81. On July 19, 1910 Henry Swift appeared in open court to proof the will of Thomas and Nancy. Henry died March 20, 1920 at the age of 66 and is buried in Merit Cemetery Hunt Co., TX. . Henry's wife moved to Arizona to live with a son. In 1908 Ross Clarence Mitchiner married Ressie Garner in Grayson Co., TX. Their first two children were born there before moving to Highland, CA about 1912 where Ross died in 1944 at age 64 of heart failure.
Because Henry Swift and Susan are the apparent parents of Ross there is a biological Mitchiner connection running from Thomas to his eldest daughter, Susan, and through that daughter to Ross and his descendants. Using Family Finder there is a trace of a connection for the descendant of Thomas W. Mitchiner to lines that lived in the Orangeburg area of South Carolina where William Best Mitchiner was born. However, using Family Finder there still has not been established a connection to the descendants of William Best Mitchiner by his second marriage.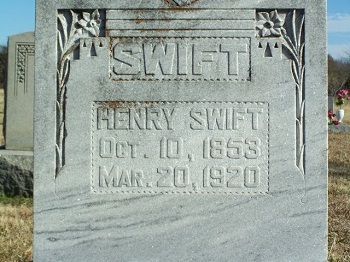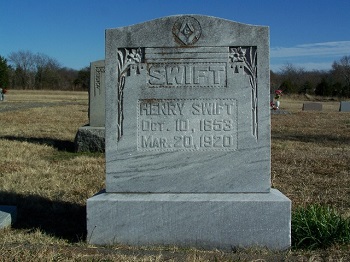 While there is a Swift connection, there is not a direct for certain Hale connection with the Ross although some Hales lived in the Hunt Co., TX area when he was born. Most likely the descendant of Thomas William Mitchiner and Eugene Hale share a common Swift ancester. Some Swift and Hale lines are found in TN. Romulus Swift lived in TN and the ancesters of Eugene moved from TN.
A Hale line from TN related to Gene and in the Hunt Co. area when Ross was born is that of James Thomas Haile (born November 8, 1843 TN and died February 20, 1916 Utopia, Uvalde, TX). Haile information is from the research of Pat Kinsey. The line of descent for James Thomas Haile is (MEAD JAMES, MEAD, JOHN, NICHOLAS, NICHOLAS, NICHOLAS II, NICHOLAS, GEORGE HALE, ROBERT HALE/HAILE, NICHOLAS, ROBERT). James Thomas fought for the Confederacy and received a pension late in life (# 29343; Texas State Archives, Austin TX). James Thomas married Mary Beaver Hodges on January 10, 1867 at Sherman, Grayson Co., Texas. A J.T. Hale is listed as a registered voter of Hunt Co., TX in the Greenville Independent, Saturday February 22, 1868. In the 1880 census for Grayson Co., TX James Thomas is listed with his wife and seven children. One son, Lucuis Beaver Haile, was born April 22, 1880 in Grayson Co., TX and died March 23, 1956 in Sherman Co., TX. Six years to the day after Ross was born, James Thomas Haile was ordained as a Baptist minister, Church at Round Timbers, in Baylor County, Texas on July 10, 1886. In 1903 J.T. and Mary divorced. Normally in Texas a divorce would disqualify a Baptist minister from serving as a pastor.
James Thomas Haile is pictured below on the left and Ross Clarence Mitchiner is pictured on the right.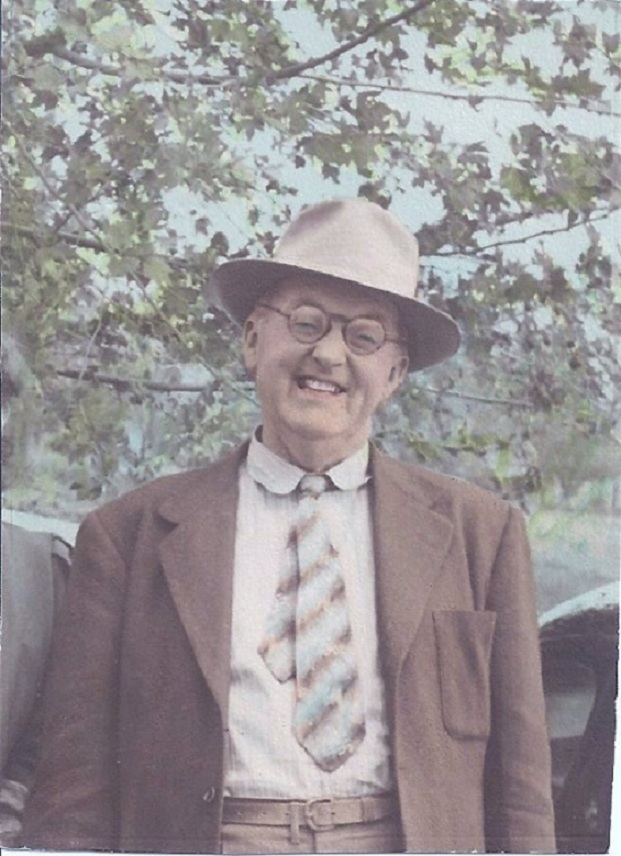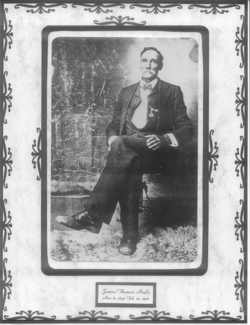 Below are children of James Thomas Haile and Mary Beaver (Hodges) Haile.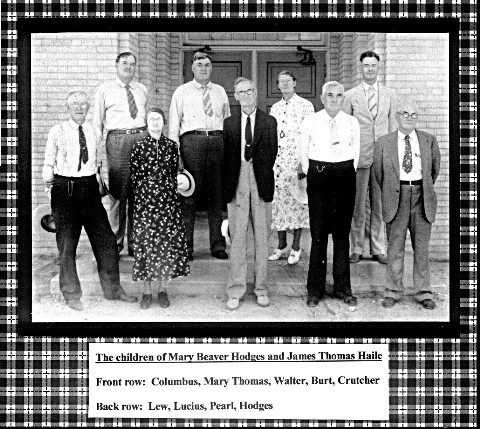 ---
This page is part of The Best of the Mitchiner website, copyright February 20, 1999 by Thomas W. Mitchiner, Greenville, NC. These documents may be freely used for private purposes, and included in your own genealogy. However, this document is copyrighted as stated above and may not be sold, nor given to anyone, who may attempt to derive profit from same. Any verifiable information to substantiate changes or additions is welcomed by the author.
Return "Best of the Mitchiners" homepage
Randolph Co., GAGenWeb homepage
Randolph Co., GAGenWeb queries
SCGenWeb - Allendale County, South Carolina
Allendale Co., SCGenWeb "Best" homepage