GRAVE MARKER OF AARON BOGGS, SR.
REVOLUTIONARY WAR SOLDIER.
RICHARD EDWARD GARNER AND FRANCIS LOUISA BOGGS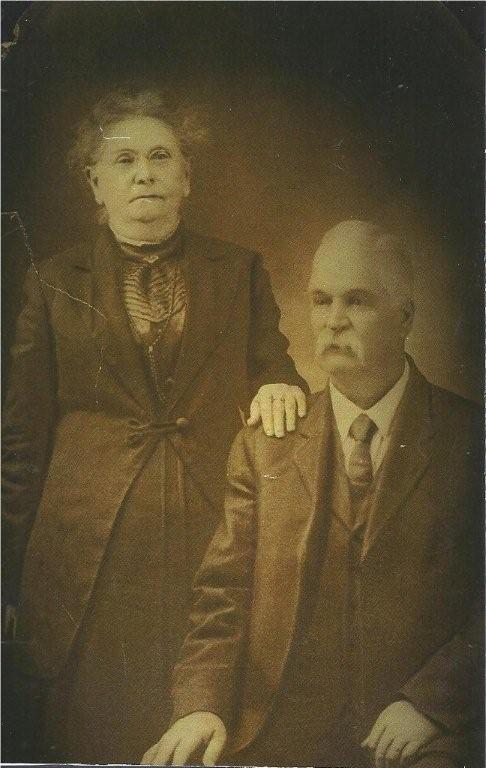 MARGE AND GRANDPARENTS
RICHARD EDWARD GARNER AND FRANCIS LOUISA BOGGS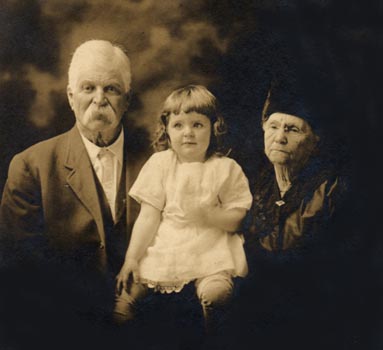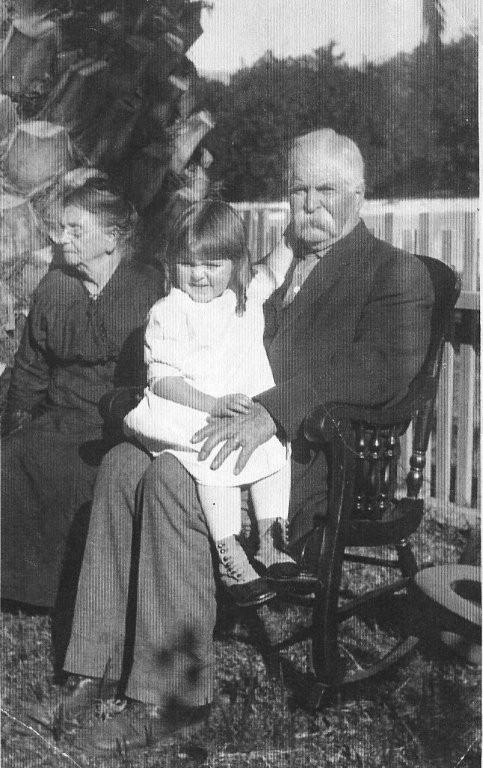 FRANCIS BOGGS GARNER
Tribute by her granddaughter, Marge Mitchiner Franz, December 1999
SOUTHERN BELLE GRANDMAMA WAS THE PERSONIFICATION OF SCARLET'S PORTRAYAL IN "GONE WITH THE WIND". SHE HAD SELF-RELIANCE, SPIRIT, FAITH IN GOD AND MORE THAN A DAB OF FILPANCY PACKED INTO HER FIVE FOOT PETITE BODY.
AT AGE SEVENTEEN THE SOCIAL WORLD AND PLANTATION LIFE WHICH WAS HER WORLD THEN, WAS SWEPT AWAY BY THE CIVIL WAR. SHE MARRIED MY GRANDPAPA, A SOLDIER RETURNING FROM BATTLE. TOGETHER THEY RAISED SEVEN CHILDREN AND MOVED TO A LITTLE TOWN IN SOUTHERN CALIFORNIA (AFTER MOVING FIRST TO FLORIDA AND THEN TEXAS FROM SOUTH CAROLINA AFTER THE CIVIL WAR). GRANDMAMA'S YOUNGEST CHILD AND ONLY DAUGHTER WAS MY MOTHER (RESSIE) WHO DIED AT AGE THIRTY-FOUR. MY GRANDMAMA WAS ALMOST EIGHTY YEARS OLD WHEN SHE TOOK ME, A THREE YEAR OLD CHILD, TO LIVE WITH HER.
AS I LOOK BACK, SHE WAS A TERRIBLE COOK. I THINK EVERY THING WAS FRIED - INCLUDING THE DRIED APRICOT PIES WHICH TURNED OUT BEST! THE HOUSE COULD HAVE STOOD A GOOD CLEANING AND THE DRESSES SHE STITCHED FOR ME ON AN OLD TREADLE SINGER SEWING MACHINE, THEN FINISHED BY HAND, WERE UTILITARIAN TO SAY THE LEAST, BUT WERE SEWN WITH LOVE.
GRANDMAMA MADE EVERYDAY AN ADVENTURE. WHEN I GOT HOME FROM SCHOOL SHE WOULD BE WAITING IN HE ROCKING CHAIR ON THE FRONT PORCH DRESSED IN A VINTAGE SATIN OR VOILE DRESS (DEPENDING ON THE WEATHER) AND WEARING SIZE 3 HIGH HEELED SHOES. AFTER HUGS AND KISSES I WAS FREE TO CLIMB TREES, EXPLORE THE TOWN, PLAY WITH FRIENDS OR BE ALONE WITH MY BOOKS. SHE MADE BIBLE STORIES SO EXCITING THAT I COULD HARDLY WAIT TO CLIMB ON HER LAP TO FIND OUT WHAT HAPPENED TO DANIEL AFTER HE GOT IN THE LION'S DEN. SHE HAD A BLUE BACK SPELLER FROM HER CHILDHOOD AND WE PLAYED WORD GAMES.
DINNER WAS PARTY TIME AS WE VIED FOR WHO COULD SIT THE STRAIGHTEST AND TAKE THE DAINTIEST BITES OF FOOD. DRESS UP TIME MEANT TALKING ABOUT HIGH IN-STEPS AND SMALL WAISTS -- "SIGNS OF BREEDING", SHE SAID AND THAT GRANDPAPA COULD SPAN HER WAIST WITH HIS TWO HANDS WHEN SHE WAS YOUNG.
SHE MANAGED TO GET MONEY FOR MY WEEKLY PIANO LESSONS. EVERY SUNDAY WE WENT TO THE CONGREGATIONAL CHURCH AND ON WEDNESDAY EVENINGS TO THE METHODIST CHURCH FOR PRAYER MEETINGS. GRANDMAMA THOUGHT IT WAS FOOLISH TO SPLIT HAIRS OVER RELIGION. HOWEVER, THAT THEORY DIDN'T APPLY TO THE CIVIL WAR. IN HER MIND THE SOUTH WON THE WAR. WE SLEPT TOGETHER IN A FEATHER BED. WE'D CUDDLY UP AND COUNT OUR BLESSINGS, NAMING THEM ONE BY ONE, AND SEE WHAT GOD HAD DONE.
DURING THE SIX YEARS I LIVED WITH GRANDMAMA I NOW REALIZE THAT SHE PLANTED IN MY SUBJECTIVE MIND A SIMPLE NO FRILLS WISDOM WHICH I CAN FALL BACK ON WHEN I NEED ADVICE AND COMFORT. MY OLDER COUSINS TELL ME THAT SHE WAS ALSO FEISTY, POSSESSIVE OF GRANDPAPA -- AND AT TIMES, FLIRTED....
SHE HAD SOME SUPERFICIAL VALUES AND HUMAN FRAGILITIES BUT UNTIL THE NIGHT SHE DIED IN HER SLEEP AT AGE 88, SHE WALKED WITH GRACE AND COULD THREAD A NEEDLE WITHOUT HER GLASSES. LIKE SCARLET, WHAT PROBLEM SHE COULDN'T SOLVE TODAY, ----SHE WOULD THINK ABOUT TOMORROW.
WITH LOVE,
MARGE FRANZ
---
DICK'S STORY
Thomas Richard (Dick) Mitchiner was born January 23, 1909 in Southmayd, Texas, during a snowstorm. There was no doctor present. He was premature and was a seven month baby. He was placed in the oven of a cook stove to keep warm. Dick was named after both of his grandfathers. Thomas, after his grandfather Mitchiner and Richard, after his grandfather Garner. After his oldest sister Sheila was born they moved to the East Highland, California area where his mothers parents and brothers were already living. A brother John (Jack) and his sister Margaret (Marge) were born in the Highland area. His father Ross worked for the orange ranch owners. His mother, Ressie Garner Mitchiner, died when Dick was nine years old. Sheila was seven years old and Jack was five years old and Marge was about three years old at the time. After their mothers death, Dick continued to live with his father. Sheila lived with her Uncle Willie and Aunt Eula Garner. Jack lived with his Uncle Jim and Aunt Mamie Garner and Marge lived with her Garner grandparents. Marge lived with her grandparents with from age three until about twelve years old.
After working for orange ranchers for a number of years, Dick's parents bought a five acre orange ranch near Del Rosa. They tried to harvest the crops before Christmas. Some years they used smudge pots to keep the oranges from freezing. All of the children went to grammar school in east Highland area. Dick, Jack and Marge attended all four years at the San Bernardino High School and Sheila went three years to Redland High School and one year to San Bernardino High School. Dick learned to irrigate the orange trees and when walking home from grammar school he would wade in the irrigation ditch when the weather was warm.
After high school Dick worked for the Santa Fe Railroad, first in Peach Springs, Arizona. The second place was in the California desert. The third place was Desert Hot Springs, CA. He learned the Morse Code and learned how to telegraph. He had to report the numbers on the freight cars and was able to memorize the numbers. While working for the Santa Fe Railroad he suffered with appendicitis and gangrene. He was hospitalized and had surgery. His mother had died of appendicitis. He liked to draw pictures and kept the other patients entertained. One nurse, however, was real rough and seemed to have a chip on her shoulder. She wasn't getting along with her husband and was not nice to her patients and they didn't like her. Dick drew a picture of the nurse with a cow body. The other patients got quite a kick out of the picture and laughed loudly. She came in and wanted to see the picture. Dick let her see the picture and it made her mad. That did not improve her disposition. His parents had not heard from him for sometime and began to worry. He was in the Santa Fe Hospital in Los Angeles. Iva said, "It is not like Dick to not write to us and let us know what has happened". When they found him, he said, "You have enough to think about and I didn't want to worry you."
After working for the Santa Fe Railroad for a number of years, he put in an application with the Pacific Telephone Company. He was told that he didn't have a chance for a job. There was a tall stack of applications on the personnel desks so he said, "See that application on top? That is mine and you will be interested in hiring me." He knew he was qualified and knew he was what they were looking for. They did hire him and sent him to Los Angeles to work the night shift. He worked for the telephone company for forty-three years and retired at the age of sixty-five. He was deferred from World War II draft because he was in communications. He was trained to work in any department. It would have taken seven years to train someone else to replace him and he was already helping the war effort.
In 1943 he met Helen Silvey at a church dinner and social an at the First Congregational Church in Los Angeles. Helen's landlady said the meal was for single people. The church sponsored the home cooked dinner every Tuesday night. Since Dick and Helen both ate out, a home cooked meal sounded good to both. They were married February 13, 1944 on Helen's mother and her sister, Eunice's birthdays. We lived in an apartment on Rampart St. Their daughter, Carol Ann, was born there. Ruby pretended she was the grandmother. In November, they moved into a house on 61st St. in Los Angeles. Their next child, Thomas, was born in December. L. D. Boyce and Helen's sister, Velma, lived with them several months. L. D. was a veteran. Dick and his family lived on 61st St. for seven years. They moved when the state bought the property to build the Harbor Freeway. John, their third and last child, was born about two and a half years before they moved to Downey, California. Were they chose to buy a house was in a new subdivision that many professionals were moving into. Dick, who was just a craftsman at the telephone company, did not qualify for a loan to buy the house. However, he had invested his money so when he was denied a loan based on his income he sold off some investments and bought the house with cash.
In 1952, the family took a family vacation to Yosemite. There were two events that made this vacation most memorable. First, Dick got up at night when he heard some trash can noise outside the tent sleeping lodge where the family was staying. He found two bear cubs making the noise and picked them up and place them in a trash can. The next morning campers gathered around the trash can trying to figure out how the cubs got into it without turning it over. Dick just watched in amusement and said nothing. Someone finally turned the trash can over and the bear cubs ran off. Second, Dick took Carol and Tom for one last walk along a very cold and fast moving boulder strung stream at the foot of a high water fall as they were getting ready to head home. They were stepping from one boulder to another when Dick fell into the water. Their footing had been very slippery. Helen was sitting on the bank holding John and could do nothing. Fortunately a man saw what had happened and pulled Dick from the stream. Only his pride was hurt. Unfortunately everything was packed so Dick had to drive home in his wet clothes.
Dick retired from the telephone company on January 31, 1974. He was presented with his telegraph key and sounder that he had used when he worked as a telegraph operator for the railroad. He had been mounted on a wood base with an engraved plat reading "T. R. "DICKIE" MITCHINER, FROM YOUR FELLOW WORKERS AT, L A 1 TELEGRAPH". Dick passed away April 27, 1984 at his home in Downey and is buried in the Rose Hills Cemetery, Whittier, California. Helen continued to live in Downey until November 1998. She moved into retirement in Fullerton.
---
Copyright February 1999 - Thomas W. Mitchiner, Greenville, NC. These documents may be freely used for private purposes, and included in your own genealogy. However, this document is copyrighted by Thomas W. Mitchiner and may not be sold, nor given to anyone who may attempt to derive profit from same.
Return to Family Photos of Ross and Ressie Mitchiner
Return to Ross Clarence Mitchiner
Return "Best of the Mitchiners" homepage